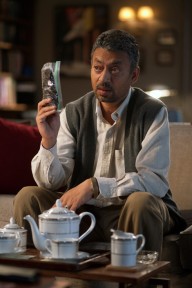 Kathryn Shattuck, a writer with The New York Times describes Irrfan Khan's widely acclaimed appearance in the HBO series In Treatment thus, "Mr Khan, familiar in this country from the movies The Namesake and Slumdog Millionaire, and something of an idol in his own, has applied his soulful gaze and talent for nuance to the role of Sunil, a Bengali widower in his mid-50s who reluctantly enters therapy after being transplanted from Calcutta to Brooklyn to live with his son and American daughter-in-law." 
 But even before In Treatment,  Slumdog Millionaire and the buzz around  a forthcoming role in Marc Webb's latest Spiderman outing (That incidentally Khan almost did not do because he did not want to be a part of this "American violent fantasy"!), we felt a frisson of part pride and part excitement when Irrfan Khan emerged languidly out of a car in a key moment in Michael Winterbottom's, A Mighty Heart.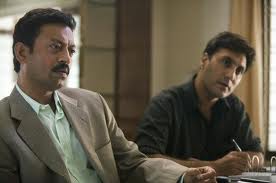 In the soul-crushing account of the days of agony and hope leading up to the murder of Wall Street Journal reporter Daniel Pearl and Angelina Jolie's Oscar worthy hysteria in the climax, Irrfan was a gentle reminder of the grace and dignity inherent in humanity when the world is going to hell. When he was not interrogating suspects in dirty prison cells, he was extending unspoken empathy to Jolie's harrowed Mariane Pearl. 
 His desperate hunt for a trail of clues which may lead to the missing man are juxtaposed deftly with moments of silent comradeship with the heavily pregnant woman who is waiting on a razor's edge to hear from her husband. In a stark scene, when a video of Pearl's execution is played before a group of his well-wishers, it is in Irrfan's eyes that we read the truth that the search has reached a dead end.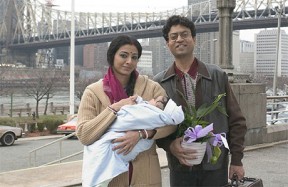 Looking back at Irrfan's oeuvre, there are many such moments when he has created indefinable magic with subtle power. The way he bids goodbye just with a nod and a gaze and a smile full of love to his wife on the airport in The Namesake, not knowing it will be his last. The way, his eyes coax Tabu in Maqbool, to stop tormenting him during a trek to a dargah when she is trying to get him to confess his love for her.    
 And looks like there is poetic justice in the world. Or so Khan's success in films, in India and abroad proclaims. Look at him again. He is not an airbrushed dandy but a real actor with eyes that can glint with unspoken menace, soften with bottomless love, convey mirth, fear, anger and kindness in a trice without a word being spoken. He is not a gym-buffed, heart-throb but there is a laid-back charm, an unselfconscious appeal which is not about body parts and a designer ward robe. He is someone you would want to have a conversation with about life because you know there is a something deeper than a glass of protein shake animating him. How many actors would for instance give up the chance to walk the Oscar red carpet (as he did recently) to spend time with their mother?
 Most of his success owes itself to his dialogue delivery which is realistic, yet stylish and always connects with the audience because he rings true. The best part is, miraculously, he has found an audience and film-makers who can see him for what he is.  Fans remember Irrfan sometimes in the eighties, making a guest appearance in Kehkashan, a Doordarshan series based on  progressive Urdu poets. He immediately made an impact because he looked and spoke like a poet, big eyes ablaze with unspoken emotions and a silken voice rendering shayari with passion and clarity.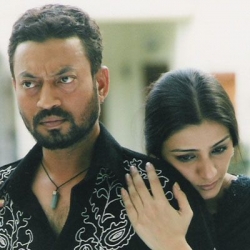 He made many unforgettable TV appearances, most notably in Tony and Diya Singh's Banegi Apni Baat, as a husband threatened by his wife's success. His work in Govind Nihalani's marital saga Drishti went unsung as did a cameo in Meera Nair's Salaam Bombay. The big break came when after making a few appearances in films from the Bhatt camp including a lead role in Rog,  Irrfan was picked  to play Maqbool, a searing adaptation of Shakespeare's Macbeth by Vishal Bhardwaj. Even in a cast dominated by the pure genius of Pankaj Kapur and the haunting, tortured histrionics of Tabu, Irrfan stood tall, inhabiting his character with moody silences and spectacular hysteria.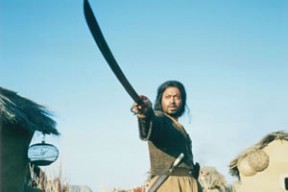 He first made waves internationally as the lead player of  Asif Kapadia's The Warrior and in Meera Nair's The Namesake. And is on a roll now, balancing adroitly Bollywood and Hollywood though he rarely finds roles back home that do his talent justice.  One of his most endearing roles in recent times was in Anurag Basu's Life In A Metro where he and Konkana Sen Sharma played an unlikely couple with a note perfect chemistry. He will also be seen in Ang Lee's Life Of Pi.
And this is just the beginning. In an industry strapped suffocatingly to stereo-types, Irrfan Khan is his own man, his own brand and someone who chose his own stream to swim in and made it to the other side. Novelist and filmmmaker Adam Rapp who penned the 2010 season of In Teatment says, "I wanted to write for an actor with a sense of humor and great depth. I truly think Irrfan is one of the greatest actors alive. "
We could not agree more.