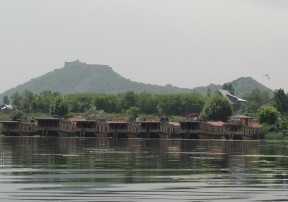 Imagine this.
You are floating. Like a dreamy cloud in the starry sky. Like a leaf in a cool pool. Like almond slivers on a hot cup of kahwa. Like a lingering kiss on a cheek.
You are still, but it is a moving experience.
Staying in a houseboat feels just like that. It's one of the most beautiful experiences I've had. Poised on the banks of the Dal Lake and Nageen Lake, houseboats are characterized by their unique interiors, maharaja-style hospitality, and gentle bobbing caused by the sighs of the chilly breeze. The Dal Lake, with over a 1000 houseboats and 100s of shikaras is too noisy and crowded, reminding you of a traffic jam with shikaras dodging other shikaras to move ahead and houseboats unable to open windows because it violates air space of the neighbouring houseboat. The din and ruckus does little to help you break away from the hustle bustle of city life that you thought you had left behind.
Even though the 15.5km drive around Dal Lake is fantastic and boasts the beyond breathtaking view of Moghul gardens and proximity to good restaurants and shopping areas, we settled for the less commercial Nageen Lake that has around 150 houseboats only. An offshoot of the Dal Lake itself, it is however much smaller. Located at the foothills of the Zabarwan mountains, it overlooks the Hari Parbat, the Shankaracharya hills, and beautiful willows and chinar trees.
Our houseboat was Lady Juliette. The shikara takes you from one end of the lake towards the other where she's anchored, dropping you at her doorstep. As you step on to the houseboat, there's a lovely portico where you could sit all morning with a book and a cup of kahwa, gazing at the beauty of the snow mountains that slowly appear from behind the fog and then sit all evening attempting to count the many colours in the sky as the sun sets before it cracks a new dawn.
The walnut wood carvings could threaten the skills of seasoned craftsmen. You remove your footwear outside in respect to the namaaz (prayers) that are carried out five times a day. The houseboat smells of walnut wood, attar, fresh cardamom and cinnamon. The living room has a beautifully crafted day bed, an ornate couch with colourful silk cushions, a few coffee tables, and the piece de resistance, a study and bookshelf. The crystals on the chandeliers reflect like sun beams on your face as you close your eyes and try to absorb the beauty of it all.
The dining area is very cozy and homely with a lovely buffet that has fine cutlery for guests, and a big dining table where home-cooked food is served with a lot of taste and heart. There's a kitchenette and in our houseboat were two bedrooms with large king sized beds, a single cot, a huge arm chair and a desk.
There are lovely trinkets all over the houseboat – paper machie items, brassware, Kashmiri wall hangings, walnut wood articles, and books left behind by many a tourist from across the globe.
However, the warm hospitality overshadows all of the above. A caretaker who was there at our every beck and call, loved to play with my son, served us hot meals straight from the kitchen, and made us feel at home – any day gave us far more to cherish than hotels that focus more on group tours and bulk bookings.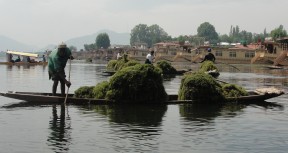 This houseboat shattered any myths we had about mosquito menace, people bothering you all the time with their wares. But much is true about how houseboats pollute the sanctity and rich flora of these historic lakes that are a victim of eutrophication (addition of waste to fresh water bodies through sewage leading to extinction of flora and aquatic life). "Save Dal lake" and "Save Nageen lake" posters are seen all across Srinagar and you cannot help but think if you have been one of the pollutants!
Again, you are not sure if you should feel guilty about experiencing the beautiful houseboats or lament over the quiet devastation they create. Lady Juliette and hundreds like her have anchored many a soul and captured many a heart and given you a joy that will be alive and floating in your memories. Always!