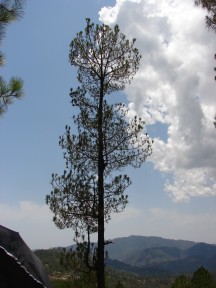 Long time before I found my way to the big city of Delhi and discovered a slice of cake called Black Forest at Nathu's Pastry Shop in Bengali Market, I knew another Kalu Danda (that's black forest in my native Garhwali). It was the name of my shady pine forested hometown that the British came and "discovered" many decades back when great grandfather's  was a burping baby.
Since they couldn't pronounce Kalo Danda, they promptly renamed it Lansdowne after some guy back home in England, totally ignoring the fact that 99.9 per cent Garhwalis in Lansdowne had never been formally introduced to him (actually, I'm not even sure about the remaining 0.1 per cent). Since the native Garhwalis had heard gruesome stories of the English chopping off heads of people (or was it wives?) who didn't agree with them, they decided to accept it. The angrier ones did mutter "kanda dharin" (rough equivalent of 'burn in hell') under their breaths at this act of impertinence but the name stuck, though most of us locals continue to deliberately mispronounce it as Lansi-dawn just to convey our displeasure regarding that chap Lansdowne, whoever he was.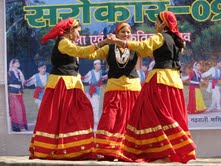 For those of you who haven't been to Lansi-dawn yet, I would suggest book your tickets now. With the way the Indian population is growing (1.7 billion soon says the depressing WHO)  you can savour the sheer absence of people, even if you fall in the category that doesn't get much impressed by lush forests, blooming red rhododendrons and white daisies by the roadside. You get to see plenty of red roofed British time bungalows too and if you are really lucky maybe even the ghost of a headless British officer who patrols the cantonment on his horse and wake up sentries sleeping on duty.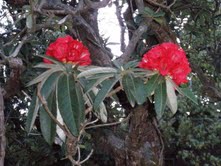 Coming back to the British, they made pretty good cantonments even if they could not cure themselves of this penchant for "discovering" already discovered placed and renaming decently named towns. A towering statue of rifleman Gabbar Singh, Victoria Cross, overlooks the parade ground where the Army units sometimes play friendly football matches with local teams, tarred roads form deep arches into the hill, pine trees drop friendly cones on walkers' heads and fallen leaves carpet hillsides down which squealing kids take breezy rides in wagons made from broken planks of wood.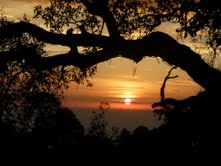 You meet runny-nosed boys with apple pink cheeks and school girls with fat pigtails and big red ribbons in their hair. You spot impish local lads by the roadside contemplating the deep questions of life (for instance: who could the new tourist in town be, where could he/she have come from; also, where would they be going). A very interesting way to pass the time. If you walk all the way down to the forest side on the route to Jaiharikhal, you cross on the road cheerful alabaster complexioned local women carrying loads of grass or wood precariously balanced on their pretty heads.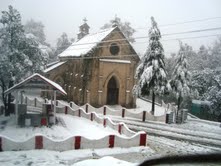 You pass luxurious deodars with spiky edged leaves and clumps of rhododendron trees that spout bright red blossoms every summer. You hear the ear splitting "kaafal pako, meil na chakho" (the kaafal fruit has ripened but I haven't tasted it yet) of the shrill and whiny hill bird, you sting your fingers on thorns from the Hisalu bushes on the roadside trying to get at the juicy orange fruit. And if you are in the mood for it, you sample a thali of almost home made lunch of roti, sabzi, dal and tangy raita at one of the two restaurants in the market.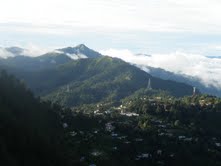 Down Lansdowne's clean roads, the friendly Whistling Thrush hops down the road, always a few annoying steps ahead  of you; colourful butterflies hover around brilliant blue hydrangeas and Army officers sometimes spot leopards when driving late from parties. And then there is something that you will seldom see. Locals take pride in the fact that there is no garbage blowing in the breeze. You won't find empty wafer packets dumped between the daisies or used paper cups chucked into bushes, which is unfortunately how things are in most other hill stations in our country. In the small but neat marketplace, polythene is conspicuous by its absence, the friendly Garhwali bhulla hands out your jalebis and samosas in newspaper bags.
And if you happen to run into school kids, it is quite likely that their excitement is about the saplings they have planted to make sure their town stays as green as it has always been. A recipient of the India Gandhi Paryavaran Puraskar, Lansdowne is one of the most environment friendly towns of the country. This is one hill station where the air has just got cleaner, the water bodies have increased and the flora and fauna have only multiplied. The Army has constructed a beautiful pond with boating and picnic facilities and populated it with dozens of noisy ducks. Remarkable for a town where water was once a scarcity. Some extensive tree plantation has also been carried out on the surrounding slopes making them greener than they were a few decades back. As for the local people, they have always followed an environment friendly way of life. Over the years children have walked to school. Now, as grown ups, most of them walk to work. Individual cars are few and even these are mostly used for travelling longer distances. Almost everybody walks in Lansdowne.
 Perched ethereally on a green hillside that hovers above a vast stretch of pine, oak and rhododendron forests, the pretty little town cuts elegantly into the pristine blue of the Uttaranchal sky. You go to sleep with hundreds of stars shining in the darkness beyond your bedroom window. You wake up with the first rays of the mountain sun and "Om jai jagdish hare" blaring from Gyarasi Lal's movie hall in the marketplace.
Or, you fix an alarm and rise even earlier so that you can slip into your jeans and a sweater, grab a flask of tea and brisk walk all the way to Tiffin Top to watch the sun rise slowly from between the cleft in the mountain peaks, lighting up the ranges with a fascinating white glow that turns to orange as the light spreads across the sky. And there you loll on the bench outside the old stone church, listening to the twitter of the birds. You reach out for the flask and pour yourself some steaming hot ginger tea and you pinch yourself to make sure all that stretches out in front of your eyes is for real. If you are in the mood for conversation, you strike one with a lone early walker (if he is in the mood for conversation too). Or you just enjoy your own company and discover that you're actually twice as nice as you imagined yourself to be. Spend a few days in Lansdowne and you realize it's the stuff perfect moments are made of. Oh yes, and if you're happy enough,  please do us prickly Garhwalis a favour and call it Lansi-dawn. At least a few times!  
 Getting there: Lansdowne is around 250 kms from Delhi. It is named after Lord Lansdowne the then Viceroy of India who is said to have visited the place in 1884. National Highway 119 runs from Delhi all the way to Lansdowne and will take you there in about six hours. Kotdwar is the nearest railway station and from there it is 40 kms/an hour drive uphill. Buses and taxis are available at the Kotdwar railway station. Jolly Grant at Dehradun is the nearest airport.
 Rachna Bisht-Rawat has been a writer for over 18 years, is a mom and a gypsy army wife. She cries easily, laughs loudly, writes compulsively and dreams endlessly about the best sellers she is going to write someday. More about her on  http://www.rachnabisht.com/
 Pics by Col YS Rawat (retired)