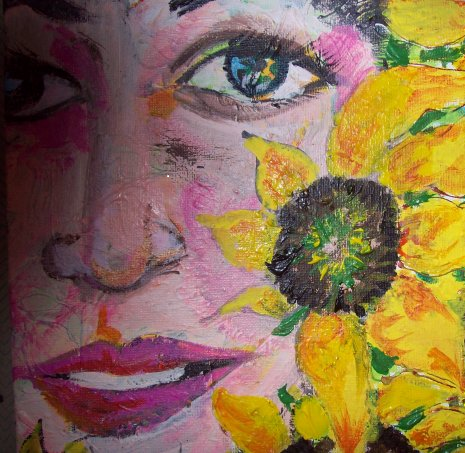 The happiest fallacy is that life is forever. Many of us have seen from painfully close quarters that it isn't and  that one afternoon when you are just watching it go by, it will stop. Just like that. As the years rush by, the idea of mortality, especially your own, fades away as other things take over. The everyday bustle of a life and a future  that somehow seems just a heartbeat away.  We believe, we will just dip our hands in this bottomless river called time and find years to spare. To do what we postponed, to live, dream and plan some more. Just like we have always done. 
 But then, two years ago, an impersonal voice referred me after a routine health check up to an oncology hospital. To a radiologist who would figure out if the "highly suspected malignancy" in my case needed early intervention. I have always been considered unrealistically optimistic so the weeks that followed my medical test, seemed just perfect to test the optimism my father had made  his life's mission to infuse in me. His was a hard fought optimism. One that stares at whatever life throws at you and laughs. And plumbs through the darkest times to find a reason to shine.
 So after the initial sense of foreboding when I thought of all the years that may not be available, years I may not have to raise my son, build my dream house, take care of my mother, travel, stroll through tulip and sunflower fields, learn to walk without a slouch, tame my temper, create a life to call my own and plant a garden full of bougainvillea bushes and flowering trees, I remembered the story I had read years ago. About a concentration camp survivor who tells a frazzled young intern when the latter is complaining about a job he hates, "There is a difference between a lump in the dough and a lump in the breast. Don't complain about things you can change."
So here it was. The thing I could not change. So how was I to deal with it? The first thing I felt impelled to do was to tell every single woman friend to go for a mammogram. And those who I forgot to tell this to, here is it again. Get yourself checked. Book yourself for a master health check-up. Today. Tomorrow. No later than next week because it is foolish to live in a mist of ignorance. Know your body. Acknowledge it as a living thing that needs as much attention as your children. Husband. Pets. Career. It could save your life and impact the lives of those you love. I know it is hard to remember sometimes that we have bodies. And that they will start screaming for attention if we don't care for them or replenish them.
  Every medical procedure women go through is invasive and painful but going through a mammogram now is better than chemo sessions later. So do it. I almost did not go to the hospital either but then a friend,  over an STD line from Chandigarh told me something I will never forget, "If you are fine, there is nothing to worry. If you are not, you can't run and hide. So get it over with." I did and was asked to wait for a year to see if new tests would show an increase in the calcified tissue. They did and the day, I was wheeled into an operation theatre to make sure that even a small possibility of malignancy was removed from my body, I felt strangely calm. I felt prepared. As if no matter what, I would be fine. I would come through this, because I had done the right thing by confronting my deepest, darkest fear.
It has been a year since that operation and I don't know if I have learnt to take care of myself better but slowly and surely, the things that do not matter have been cleansed from my life just like that suspected malignancy. I am suddenly done with left over, untreated anger from the past that erupts in the present.  I have no energy or need for it. I move away easily from situations that are exploitative and people who are competitive, dishonest, negative or just plain indifferent. 
What I have learnt most importantly is that life is not something that happens tomorrow. It unfolds in the Now.   I have also learnt that malignancy is not just something that is a thing of tissue and bone. It is of the soul as well. I know now that if we carry the past and its hurts in our memory, we are left with no space for joy. And an unattended seed of grief or malice or anger grows till it becomes a forest we lose ourselves in. It is only when we let go of musty  baggage from the past that we are free to receive new gifts.
I know now that the easiest thing in the world is to look for the lumps in the dough  till something reminds us of all the years we wasted our life when we could just have lived it.   So everyday, I try to weed out a frown and plant a smile in its place. It is exhausting at times but with time, the garden will start blossoming and I will sit under a tree and watch over my acres of smiles.