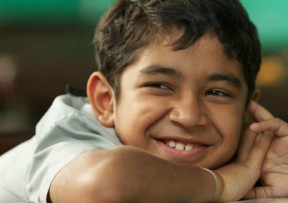 After watching Amole Gupte's Stanley Ka Dabba, you grasp  one thing with absolute clarity.  That Taare Zameen Par may have had Aamir Khan's name but it had Gupte's soul. It was Gupte's intuitive empathy for a child's world view, his understanding of what pains a child, what makes him smile and, his ability to disappear into a child's tender, sunlit soul that made Taare Zameen Par, the film it was. And Stanley Ka Dabba is just as special.
 Child actors forever have been altered and resized to fit into adult stories in Hindi cinema. Gulzar's Kitaab and Parichay and Shekhar Kapoor's Masoom and Mr India, notwithstanding. It is Gupte who gives children a central place in films that tell their stories. His kids are animated with something few child actors are allowed to have in films. Lack of artifice. Uninterrupted innocence. Spontaneity. 
Gupte captures it all. Sunlight livening up a bunch of leaves. A Mother Mary sticker on a class room door. A young child's yawn, a little nose squashed against the glass pane, a frown, a slump in the shoulders, a sudden tremor of fear, suppressed pain, curiosity, a glint of mischief, the vulnerability of children in an adult world that talks down to them, takes things away from them, hurts them, disregards them and their right to laughter, fun, a safe childhood and something as basic as a dabba, a tiffin box packed with a mother's love.
 This dabba in the film is a metaphor for childhood, a sense of home, the feeling of being loved and taken care of that most school going children take for granted. And there is Stanley (Little Partho who also happens to be Gupte's son) who comes to school without a lunch box, before everyone else, with mysterious marks on his face, a gift for improbable stories, the ability to stay hungry during lunch hour thanks to endless swigs of water and a bright spirit that finds an answering smile in teacher Rosy (Divya Dutta).  He also has a bunch of loyal friends who share their food with him and will do anything for him, even hide their tiffin boxes from a rapacious Hindi teacher (Amole Gupte) who will demean himself, steal, stalk children and stomp in rage if denied a meal.    
 The template of the story is very similar to Taare Zameen Par. A child with a mysterious lack trying bravely to cope. An empathetic teacher though she has no role to play in his destiny. And a little hurrah in the end. However compared to the harshness of Stanley's life, Ishaan Awasthi lived in a fairy-tale though with its own resident demons. We know, right from the beginning that there is a blow awaiting us. Some fact about Stanley's life will emerge in the end that will knock the wind out of our lungs but when it does, we totter inwardly in shock. Especially when the film drives the point home that Stanley is one of 50 million living tragedies in India that we walk past everyday. 
 The reason why he cannot bring a lunch box to school, why no one knows where he lives, why no one comes to pick him up or drop him to school is even more poignant because for most part, the film leisurely unfolds where not much happens except Stanley's encounters with a drooling teacher known as Khadoos (Gupte, convincingly loathsome as he steals jalebis, covets paranthas and cookies and  waits for the lunch break so that he can raid tall tiffin boxes packed with home made goodies).
It is Partho who really is the soul of the film as he dances, sings, play acts, tells tall stories, shows false bravado  through the suffering he must endure each day. His Stanley exudes quiet resilience and dignity in a natural, matter-of-fact way and a great sense of drama as when he plonks a large tiffin box in front of the his biggest foe and underscores the fact that before his disbelieving eyes is infact Stanley Ka Dabba. Full of food and delicious pride.
 The film is a culmination of one and a half years of non-invasive acting workshops with school children in Mumbai and Gupte's detailing of each of the children shows just how good he is with them and just how much they trust him. There is also Gitanjali Rao's lovely animation kick starting the film and Gupte's touching tribute to classics like Pyasa, Meghe Dhaka Tara and more in the opening shot summing up his dreams for his production house.
 Editor and co-producer Deepa Bhatia is as sensitive with the material and there is a restful, leisurely pace to the film that builds to the shattering climax. Yet there is a fragile sense of hope in the end. The hope that a child can even with the leftovers life gives him can create a beautiful story to live in.
  Watch it. It will make you laugh and cry and smile and feel a bit ashamed. And if the last provokes the desire to change the life of a Stanley we know, the film would have achieved everything it set out to.
Reema Moudgil is the author of Perfect Eight. (http://www.flipkart.com/perfect-eight-reema-moudgil-book-9380032870) . More on Story Wallahs. Other books by Unboxed Writers in our Store