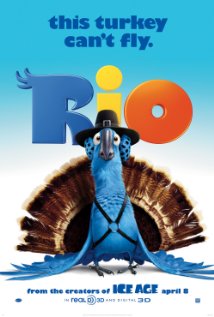 Director Carlos Saldanha's Rio is like a pop-up picture book where every leaf is velvet, every bird feather is silk and every page is a carnival.
Here imagination is an emerald jungle that we can inhabit with jewel eyed macaws or  simians who text "oo oo..aa aa" to their cronies and swagger around in stolen, human baubles. And a city where bull dogs do the samba in shiny briefs and the ocean and the sky are just a finger tip away.
The film's 3D magic infuses life in Brazil's Rio de Janeiro and its seedy, dimly-lit slums and ramshackle shanties smelling of damp poverty, crime and the passion for football. The forests are magical with their own rhythms of colour, music and harmony till the human presence poaches on their sanctity.
 And despite its similarity to many other coming-of-age, animation films, Rio is essentially a story about creatures who are meant to live in their natural habitat and the human need to domesticate, dominate and cage their spirit. It is also about two kinds of humans. Those who will travel from one end of the universe to another in order to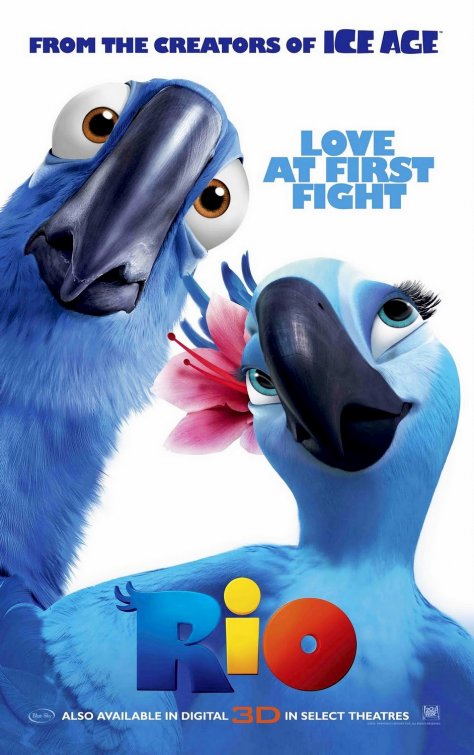 save a vanishing species and those who poach, hunt and cruelly commodify wild life. It is also a story about fears and adventures. About sheltering ourselves from life with hot chocolate and marshmallows or meeting it head on and taking wing towards our destiny.
Our feathered hero Blu (Jesse Eisenberg reprising his sharp, edgy, staccato delivery from Social Network and bringing on a smile with clever lines and clumsy pauses), wears invisible pyjamas because he has no memories of flying.
 Having been kidnapped as a baby by poachers, he is fortunately taken in by a loving little girl and grows up with her,  content in their cloistered life. His adoptive parent Linda (Leslie Mann) lives with him in a cosy apartment and has no interest in the world outside the windows of her Minnesota  bookstore till an over-enthusiastic Brazilian ornithologist, Túlio (Rodrigo Santoro) arrives one day and changes everything. Linda learns from him that Blu is the last male of his species and agrees to take the bird to Rio de Janeiro so that he can mate with a female macaw. 
 And then we meet the spirited Jewel (Anne Hathaway) who disdainfully calls Blu, a 'pet' and keeps on trying to escape as she taunts him for accepting the human imposition on his will.  But poachers strike before that, chain the two together and plunge them into a fate fraught with danger and an adventure alive with excitement and the possibility of love. There are unlikely friends, Pedro (will.i.am) and Nico, the jaunty yellow canary (Jamie Fox) along the way and a villainous cockatoo Nigel (Jemaine Clement) thrown in for good measure. There are breathtaking vistas of Rio, pink petal showers and an absolutely heart stopping carnival. The film also tenderly captures the innocence, the sense of joy and wonder in creatures who we must respect as the co-inhabitants of our planet.
Lionel Ritchie's love songs pop up, as do spectacular musical interludes along with enjoyable insights into life. And  lessons about leaving our comfort zones to open ourselves to fear so that it can enrich us in ways ease never can. 
Rio is the kind of a movie experience you are grateful for because it is so invested in the viewer and is so earnest in its attempt to enchant and entertain us. And of course there is Blu who walks away with the film, thanks to these lines, "I can't fly, I pick my beak, and once in a while I pee in the birdbath!"