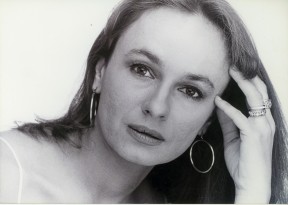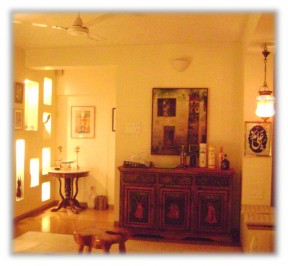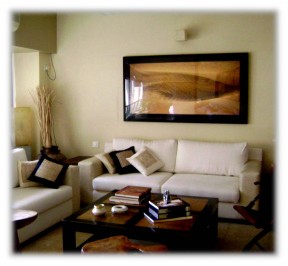 There is a certain honest-to-goodness quality about actor Soni Razdan that translates into a commitment to the moment no matter what she does. Be it the vulnerable fierceness she exuded in Mahesh Bhatt's film Saraansh or the comically mean daughter-in-law she created in Ramesh Sippy's Buniyaad. Be it the struggle to stay afloat financially during her years as a student at the prestigious Guildhall School of Music and Drama in London, or trekking across the Himalayas in her 40s, living without creature comforts in freezing tents and loving every moment if it. Or creating a home that is now a design template for the projects she is handling in her new role as an interior designer. She never fakes it and it shows.
A  few years ago, I interviewed her over the phone and discovered that her voice is devoid of an actor's affectations. No dramatic pauses or exaggerated exclamations or fake laughter. Her home is like that voice. Not playing a part. Just comfortable in its own skin. Celebrating the here and now. Her home plays warm light against cool shadows, breathes in and out and creates an easy, harmonious banter between fullness and emptiness, colour and form, precious art and everyday comfort. Recently, she also executed a chic, peppy vibe in designer Masaba's store.
In a chat with Unboxed Writers, Soni shares how she came to love the art of breathing life into living spaces.
When did you get interested in design?
Ever since I can remember! As a child, I used to pore over design magazines at the Bombay Gymkhana for hours and imagine myself designing all sorts of houses. I wonder now how that did not come up as a choice of career early enough in life! It has always been such a sheer pleasure to dream up rooms and colours and textures. I am the most surprised person here (because I waited this long to do what I love so much)!
What were your early design influences? Home? Parents? Travel?
Well, my father is an architect. He is still practicing at 83! So design was a part of my life from an early age. My mother is great with colours and style and is a very stylish lady in all spheres. My sister is a trained interior designer, and so the conversation at home was always about style and design in some form or another. I absorbed my father's ideas and then was inspired by my sister as time went on.
What is your design philosophy? Comfort and luxury? Modern and simple?
I believe that a house is a home first. Style comes later and it should never be imposed, but rather should be something that evolves with time. Personally, I go for style that is a little bit of this and that. I like a bit of modernity mixed with classic pieces of furniture, with comfort being of utmost and supreme importance. My style is a blend of casual Californian and Spanish influences with classic Indian bits thrown in to create substance and depth. I also love just basic, clean lines. With lots of white walls and dark wood. I think there is no one philosophy here other than that I can't stand crowded, garish designer rooms, or a very overtly classic look.
What tips you can give to people who want to design their homes themselves?
I would say, take it slow.. do it a bit at a time. A house has to be lived in for you to know what you really want out of it, and what you need where. So start with a basic look, a few key pieces of furniture and colour, do the bathrooms if possible and the kitchen first. Get the messy work out of the way. Then take your time to figure what works, and to look around the market for great pieces of furniture. They don't have to be antiques or expensive. But you need time to build your house from within. A house should reflect the personality of the owner. The designer should not be visible, nor should the 'design.' I do not really care for houses where everything looks like a show piece.
How would you describe your own house?
 My house is an eclectic mix of styles and pieces that I have picked up over the years. Again I would say, contemporary classic is the way it looks right now.  It has what I call a  Bombay- Malaysian mix. It is not ultra modern, because I think that kind of luxe look dates very fast. I like a look that will never really go out of fashion, so that's the way I've done my house. It's warm, fresh, very cosy and comfortable. Just what a home should be.