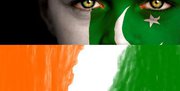 It is not easy to love your neighbour across a barbed fence. Not easy to see that history is never just about us or them but about everyone who has lived and breathed and suffered and walked on this planet. That an individual matters as much as a nation. It is hard to see ourselves and others through a 60 year old prism stained with blood and mistrust and hard to foresee that hate gets tired, violence spends itself and at some point all ideas that do not include the Other, become obsolete.
 It takes time, maybe many lifetimes but it happens. I wrote my book Perfect Eight because a gnawing sense of purpose drove me to share how the micro details of  human existence are as important and meaningful as the macro-perspective that a nation creates for itself. Everything a nation experiences ideologically, the individual experiences physically. And so something as hugely momentous as the Indo-Pak Partition was not just a geographical event.
It was a uniquely personal tragedy for millions of Indians and Pakistanis who had to shed their historical identity like old skin and grow a new unfamilar one. The division of India and Pakistan was not just a line across the map. It meant trains packed with mutilated women, rapes, mass murders and a staggering loss of humanity. It meant decades of real and imagined aftershocks. It meant generations living in the ruins of the past rather than in the promise of the future.   
I grew up listening to stories of a bungalow, a sprawling garden and a life of abundance in Lahore that my mother, her siblings and her parents had to leave behind and deal with acute poverty and powerlessness in what was for them, a new country. A small part of this family history went into my book too as I tried to understand what happens to the human mind when it is severed from trust, from a sense of home and selfhood by violence.
But as I began writing the book, I realised that an event like the Partition is not something one can leave behind in history and move on. It spawns more partitions not just between two severed nations but within our own neighbourhoods, towns, states and nation. Be it terrorism in Punjab that I lived through. Or the 1984 riots where families of 4000 massacred Sikhs are still waiting for closure because they know justice has not just been delayed but denied to them. Or the frequent Hindu Muslim riots or divisions, both visible and invisible created by language, regionalism, ideas of statehood above nationhood. The cycle of mutation continues to whir endlessly, relentlessly.
 How righteous we are when we accuse our neighbour of  a bomb blast, a terrorist attack but we think nothing of colonies of widows created by the State sponsored genocide of 1984. Do we care about each other enough to shelter a neighbour when a mob comes calling? Some of us are but the tragic fact is that we do not stand up for each other that often and the only time we feel patriotic is when a Kargil happens, a 26/11 happens or a cricket match between India and Pakistan takes place.
 It serves politicians in both the countries to keep us diverted with war games, jingoism and one-upmanship so that we can forget just how badly administrated we are and how corrupt our governance is. If we were at peace with each other, we would start wondering why we can't have good infrastructure, clean water, enough food. Why mines exist where forests should be. Why our kids beg on streets in thousands. Why our leaders have Swiss bank accounts and our farmers kill themselves to free themselves of debt.
 Hate is such an addictive drug. It numbs us to our own reality. It gives us a sense of purpose and moral righteousness. Watch how enthusiastically some sections of the media have drummed up the "Afridi calls India names" frenzy. Sure, he said what he said. But is it more important than the fact that the Indo-Pak match was played with exemplary dignity? That there is a possibility that the future generations on both sides of the border may want to discard our history and theirs and be more cordial and trustful towards each other?                 
 It is a possibility though I may not see in my life time. I see hope in the fact that thousands of us read Pakistani film maker and writer Maheen Sadiq's beautiful summation of the recent semi-final and joined her in earnestly hoping for a more connected future. I don't know this remarkable writer but her voice embraces me in a warm hug. She  reaches out from across the border to endorse what all sane Indians and Pakistani citizens feel. That it is time to find links that connect us and to somehow learn to recognise that we are not that different from each other.
Her Facebook profile shows the colours of the Pakistani and Indian flags, merged in perfect harmony. I have taken the liberty to post that picture here. Regardless of what happened to Them and Us during Partition, all the lives lost over Kashmir, during the wars, because of terrorism and during  26/11, voices like Maheen's can do more to heal the past than any goodwill ambassadors can. She makes me believe that the future will rid itself of the past. She makes me believe that maybe we are bigger than our respective versions of history.  That we  are infact estranged but not irrevocably so.