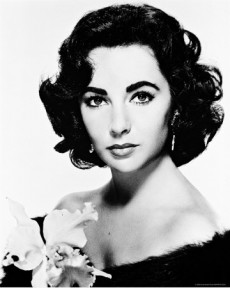 Elizabeth Rosemond Taylor has quietly passed into the night. And it is time to dust all the cliches about her and air them. Her marriages. The big love storms. Her near misses and then the two Oscars. Richard Burton. Richard Burton again. And the others.  The diamonds. Her staunch friendships with the oddballs in pain. James Dean. Rock Hudson. Michael Jackson. But no matter how hard we try, we cannot quite put our finger on the essence of the miracle that she was. Which is how it should be.
Not everyone, we must remind ourselves is small enough to fit into the pigeonholes we create. The one thing we do know for sure is that Taylor was the last of the iconic stars we had the good fortune of knowing in real time. Star is too restrictive word for the overwhelming force of nature she was even when she wasn't playing the cat on a hot tin roof.  Recently, I saw her playing a wilfully opinionated and yet gracefully amenable matriarch in the 1956 George Steven epic, Giant, and  realised that legends like Dean and Taylor are not all time celluloid greats only because they could act and inhabit the souls of the characters they played because of course they could. They were great because they inhabited us, branded us with a sudden gaze, a toss of the head, a frown, a laugh, a cry of pain. We remembered the slant of their eyes. We remembered everything. 
They nailed us to a moment and did not let us forget even for a moment that we were in the presence of something extraordinary, something more than mere mortals are given. Something that only a few are given and not all who are given this gift of unbearable beauty, boundless passion and talent are capable of walking with it into the sunset. James Dean died in a crash many had foretold before his third film was released. Monroe died tragically young.  But Taylor somehow held on to a quiet place within despite all the noise that surrounded her.
Remember that question Paul Newman asks her in that gilt edged classic,"What is the victory of a cat on a hot tin roof?" And Taylor retorts in a velvet purr, "Just staying on it, I guess, as long as she can." That is what she did in real life too. She did not jump into anything crazier than the reputation of a serial bride. There was substance abuse and overeating too and chronic loneliness but she kept to herself. Unlike the starlets of today, she was never seen courting the tabloids. She never aired the linen. And always exuded class and dignity. And even when she was supposedly a bit tipsy at the 2006 Golden Globe Awards, she evoked applause rather than titters. And lets just settle it once and for all.  She was a genetic marvel.
Like Richard Burton wrote in his 'Meeting Mrs Jenkins,' "She was unquestionably gorgeous. I can think of no other word to describe a combination of plentitude, frugality, abundance, tightness. She was lavish. She was a dark unyielding largesse. She was, in short, too bloody much. She was so extraordinarily beautiful that I nearly laughed out loud. She was the most astonishingly self-contained, pulchritudinous, remote, removed, inaccessible woman I had ever seen."
Hell, who else could have played Cleopatra (1963) and taken home a salary of $1,000,000 without anyone ever asking the question, "Did she deserve her stardom?" Though in the public eye since the time she was nine (Her debut film There's One Born Every Minute came out in 1942) , Taylor never became a caricature of herself. Never became anything less than the formidable star that she was destined to be once MGM's National Velvet (1944) came out. Through Oscar nominations for Raintree County (1957), Cat on a Hot Tin Roof (1958) and Suddenly, Last Summer (1959) and wins in BUtterfield 8 (1960) and Who's Afraid of Virginia Woolf? (1966), she played a woman who despite her almost untouchable, inaccessible beauty was a woman of dark passions, real angst, searing pain.
 The fact that she aligned herself with the cause of HIV/AIDS awareness in the 80s when the ignorance about the disease was rife, shows the steel that ran like sinew under the velvet. She had seen her life-long friend Rock Hudson struggle with the disease and die of it and she dedicated a big part of her life to raise funds for a cure and to fight for the compassionate and respectful treatment of those infected with HIV/AIDS.
She was also instrumental in getting the first federal government funding to combat HIV/AIDS and raised millions through the Elizabeth Taylor AIDS Foundation. In a quiet, unintentional manner, she became bigger than any movie role she had played. And her fame acquired a purpose beyond the media lore of her lost loves, her perfumes, her diamonds, her quirky, impatient marital choices.
I remember watching her glide onto an Oscar stage a few years back and say something to the effect of, "Hi, I am Elizabeth Taylor." Of course, you were ma'am. And there will never be another.