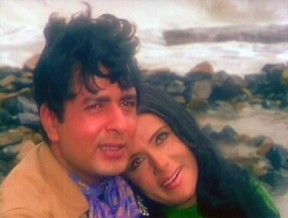 The night I heard of Navin Nischol's death, I watched
Parwana
(1971) on YouTube. Yes, the same film where he played the hero and Amitabh Bachchan, the second lead. The irony. Years later Navin Nischol played the second lead in
Desh Premi
(1982) where Bachchan, a superstar by now, was already playing a double role. Yes, the irony.
Unlike Bachchan, Nischol had begun his career as a leading man. He was meant to spell box-office gold. He had conventional good looks. He was the first gold medal winning actor from the Film and Television Institute of India (FTII). His debut in Sawan Bhadon (1970) was a roaring success. Life magazine had put his kiss (edited out from the film) with Rekha (a faltering, unrealised youngster then)  on the cover. Decades later he was given a cameo opposite Rekha in the embarrasingly graphic Aastha (1997) where his once ungroomed co-star was now the lead player and almost in every frame of the film. Yup, another irony.
Post Sawan Bhadon,  Nischol never really peaked though there were a few memorable hits. Victoria No 203 (1972), for instance.  And Dharma (1973), where Pran played the title role.  And if Hanste Zakhm (1973) had featured maybe a Hema Malini or even a Rekha, and not the unfortunately taciturn Priya Rajvansh, it would have been a hit too considering it had a great musical score, a radical love story featuring a sex worker and Nischol playing an impossibly committed suitor with believable anger, jealousy and pain.
There was something very subtly sensual about Nischol. A pair of jet black, smouldering eyes, tousled hair, a taut yet casual grace that was not visible in Sawan Bhadon where he was mostly clad in drain pipe trousers and was made to dance like Jitendra though it was painfully obvious that the boy had two left feet. In Parwana though, he had grown more comfortable in his skin and effortlessly played the man the heroine falls for.
Describing the heroine's passion for Nischol, Om Prakash says a few memorable lines to Amitabh Bachchan, the thwarted lover. He tells Bachchan, "Woh Ram ki nahin, Krishan ki bhakti karti hai aur hamein uska imaan badalne ka koi haq nahin hai."
In a could- have- been good film, littered with mostly forgettable songs, he was the playful, charismatic boyfriend setting off Bachchan's introverted obsession for a childhood love. At no point did you feel that he was a lesser actor or any less charismatic but there was no aggression in his persona. Or perhaps he was never given a chance to explore darker roles which were then changing the face of the Hindi film hero forever. He was a natural, no-fuss performer.  A laid back, sophisticated charmer. Someone who rescued the heroine from prostitution (Hanste Zakhm)or an abusive husband (Dhund) or whisked her away from a life of poverty and struggle (Victoria No 203).
He was however not given a single larger than life, heroic, bravura role where he could flex histrionics and become a super star. He could have been one of our most memorable romantic stars though. He had the gaze and the smile to light up even someone as forgettable as Archana, whom he serenaded with Raat Kali Ek Khwab Mein Aayi in Buddha Mil Gaya (1971).
But he never met a film maker who could  create roles around his strengths and so his graph hurtled past the Chetan Anands,  the Hrishikesh Mukherjees and the BR Chopras and plunged to the Ramsays and then on to character roles. Then came  television but unlike bigger superstars whose fall from grace was without grace..he remained dignified till the end.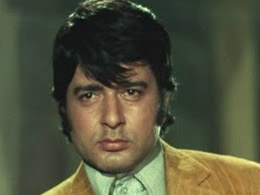 His personal life was a painful, messy affair but that was his business. I for one will remember him as the star who given the right roles could have been up there with the best of them.
I will remember him as the young lover driving a taxi on Mumbai's rain splashed roads singing Kaifi's Tum Jo Mil Gaye Ho like he meant it. A scarf around his neck, eyes moist with unspent passion. I will remember him as the free spirited son who trashes his parents' party and dances with the girl they don't want him to marry to the tune of Yeh Maana Meri Jaan.
I will remember him as the silently suffering loner in Ek Baar Kaho (1980). As a man who made his peace with whatever life gave or took from him. As the man who saw the dazzling peaks and the dark hollows of life and maybe felt beaten but still lived with his head held high. We can only hope that now atleast Ek Bhatke Hue Raahi Ko Karvaan Mil Gaya ..