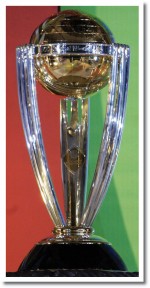 The thrum of Vande Mataram. The beating of a giant heart during the 'reviews.'  The roar of a 1000 drums. Aamir Khan gesturing victory to the crowd to the tune of, "Rubaru, roshni hai." A Pakistani woman praying with her eyes closed. Harbhajan Singh invoking the Sikh Gurus. A commentator screaming, "Out..OUT..Yuvraj Singh may have put India on the road to Mumbai!"
The subtext of Sonia and Rahul Gandhi sitting with the crowd and she throwing up her hands in the air at the fall of the last wicket. And Shahid Afridi watching the dying gasps of the match with a sadness you could not help feeling for.
But the perfect Bollywood moment came much before the victory. And it was better than scripted goose bumps and came when Indian and Pakistani teams walked out, swathed in their signature colours, holding the hands of young kids (in white) to the classic Vangelis theme music from 1942-Conquest of Paradise or the theme music from Koyla, if you would rather believe Rajesh Roshan.
That music is the kind you cannot remain unmoved by. When it starts to throb, every moment becomes about life and death, every ordinary man becomes a hero and a cricket match becomes a metaphor for a battle where no blood is shed though the baying crowds doused in war paint sometimes don't know that.
The kids in white were the nice touch though. They were there to underscore that this semi-final was afterall about peace. About recognising that as two scarred nations, we can hold hands even though our shared history is heavy with pain, loss, tragedy, anger and the feeling, "We can't lose to THEM!"
I still remember how my bedridden Nani who had lived through the Partition, had lost her home to Pakistan but never her equipoise, would becomes restless while listening to an Indo-Pak match on her transistor and would promise a everyone a treat of jalebis, in case WE beat THEM.
Its almost like the Mahabharata syndrome. Every cricket field where we clang our invisible swords together is a Kurukshetra. The battle for a cup becomes a battle for everything we have been fighting over for decades. Every match is the sublimation of pain and anger or a chance for both nations to avenge everything, to prove something.
But for a few moments when the national anthems of both the nations played and the Indian Prime Minister and his Pakistani counterpart walked past the two teams to shake hands and exchange brief smiles, we got a glimpse of a shared space that need not be acrimonious. The same space we saw fleetingly in Pakistan, many years ago when a placard sang out from the stands, "Hum Yaar Hain Tumhare, Humse Mila Karo."
It is possible to connect tenuously with each other. We know that when we hear each others' music, when ordinary citizens from both nations with no stake in political one-upmanship long for just normalcy and peace and the end to the jingoism that takes over everything once we start talking 26/11, Kargil,  Kashmir, the wars, the Partition, yes, even a World Cup semi- final and how we MUST win it.
The social networking sites this time were aflame with excitement as they followed every wicket, every ball, every run with joy or humour or sarcasm or barefaced angst. Someone wanted the Indian team to achieve what the Indian Intelligence had failed to. Keeping Pak out of Mumbai. I can only imagine what they must have been saying in Pakistan.
And then there is the drama of raw emotion on the field. Remember the futility with which Bishan Singh Bedi flailed his hands while Imran Khan kept hitting him all over Karachi in 1978? Or Javed Miandad's glee at having hit a six off Chetan Sharma's last ball in the finals of the Austral-Asia Cup in Sharjah, in 1986? Whether you love cricket or are indifferent to it, you can't beyond a point escape the agony and ecstasy, desperation and excitement it unleashes in both the countries. And if that is not enough, now we have musical interludes ranging from "Singh is King" to "Chak De India" and slow motion shots and extreme close-ups.
If you look at it though, there is not much to divide India and Pakistan if you discount the degrees.
We live through layers of corruption, scams and scavenging politicians and the worst crimes committed by those in power against the idea of nationhood, equitable growth and honest administration and in a way cricket for us both is a release, an escape, a chance to feel patriotic and to feel that despite everything that is in a mess, we are winners still. Or can be.
This was our night. But if Pakistan had played their hearts out, it could have been theirs. They have done it before. They will again. What we should be proud of however, even more than the win today, is that barring a few unsavoury slogans in the stands, we were good hosts. Tonight was a good example of what can happen if India and Pakistan continue to meet without the political jargon, the burden of history and the baggage of vested interests.
And lets admit it, when we play together, we put up a show to beat all other shows. And someday both nations will realise that cricket is just a game but for now, India have lived up to the moment. Today, the Indian fans have lived a dream and like a  commentator said,"Let the party begin." Tomorrow will come but it will be tomorrow.