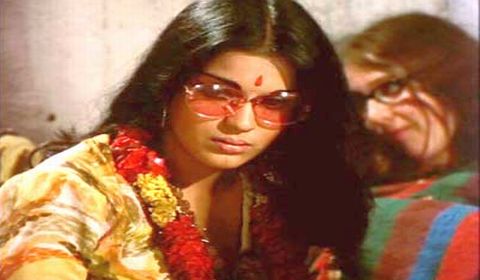 How does she reconcile a rockstar voice with the full moon bindi and the jasmine gajra and the glorious Kanjeevaram? Usha Uthup just does. More than 30 years down the line, she is still the mistress of sweet ironies. A darling once again of mainstream Hindi film music fans after her star vocal turn in Saat Khoon Maaf. A film she also acted in. The fact that many of her new fans may not have been born when she first became the voice of rebellion in RD Burman's Dum Maaro Dum is incidental. Born the same year that India got her independence, Uthup grew up listening to many streams of music and she and her sisters (The Sami Sisters) took their drawing room sessions to stage and night-clubs and Usha's voice found its way into RD Burman's music, both in Hindi and Bengali and later even Bappi Lahiri gave her many opportunities.
I met her years ago at a hotel event and was to discover some more delicious ironies like the fact that she had come down from Kolkata to Bangalore, not to sing but to preside over a simmering pot of prawn curry! Interesting, I remember thinking. Here is the rebel husk of  the 70′s flower children with the trance-inducing chant of  Hare Rama Hare Krishna, cracking jokes about not just singing for a supper but cooking it as well.
I discovered that she was a domestic goddess for the same reason that she chose to sing. Both defined who she was and gave her life a sumptuous theme music. "You won't get it right without interest. Slice some ginger finely, pick some coriander to garnish a dish. Cook something delicious for a child, your family and they will never forget it,'' she had said and added that she never tasted her own non-vegetarian dishes because she is a staunch vegetarian herself!
Llike her cooking, she never learnt singing either but the opportunities to do both came her way and she shared how she can cook the same dish or sing the same song a 1000 times but each time, both end up with a different zing  because she puts "the magic of love in everything." For Uthup, cooking a great family meal is like singing a song for a big audience because in both cases, the appreciation is instant.
Her rum-and-coke voice was first heard in the 70s and the 80s in Hindi film songs by the masses but she had always been a singer. When I spoke to her, she seemed glad that she was still singing because somehow, life worked out stuff like that for her. Breaks at the right time. People who helped her grow. Like RD who ended up becoming a close friend as well. I remember just how naturally easy-going she was about her lasting success, not once claiming an iota of it as hers alone and attributing it to the benevolence of life and the goodwill of people.
She had smiled, "I have no hard-luck story to give you. I was very lucky to get the opportunities I did. I was a night-club singer and had no Godfather but things happened and I am grateful. I am a middle class South-Indian who  never had any sense of packaging. Singing is the only thing I knew even though my music teacher threw me out of the class in school! Only God, good people and good timing brought me so far.''
This feeling of gratitude spurred her on to cut numerous albums, sing in 16 Indian languages and four foreign languages and saw her through many musical trends on her own terms, wearing her demure Kanjeevarams.
So here was a living life-lesson. A self-proclaimed  South-Indian housewife who sews "fantastic clothes,''  is a "great cook'' and who thinks women and men belong together to  lead fulfilled lives is not a product of rebellion but of a joyous acceptance that life is not one but many things. This despite the fact that Uthup was also the original Alpha Woman, someone who multi-tasked, brought up babies, ran a home and toured the world 35 years before women began to blend ambition with responsibilities.
There were times when she had to choose between a sick child at home and a stage performance and she made her choices depending on where she was needed most. And never regretted them. Or tried to gloss over them. Like her voice, her life too has full-bodied honesty.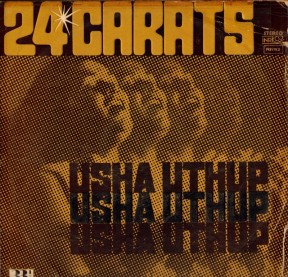 I remember her telling me, "I am a mother but also answerable to 10,000 people who had bought tickets to hear me sing. I have never wasted time explaining myself to people. I have never tried to be something other than myself. I have never tried to hide a grey hair or a wrinkle. I have never been in a rat race and never been desperate for success. If you have belief in what you do and have the courage to face the consequences of your actions, you will succeed in your quest for peace."
I came back home that day bathed in the realisation that all a woman needs is to be is herself and that if she can reconcile the seemingly disparate aspects of her life, she can create what Usha Uthup has. A life that feels like music.
Reema Moudgil has been writing for magazines and newspapers on art, cinema, issues, architecture and more since 1994, is an RJ, hosts a daily Ghazal show, runs unboxed writers, is the editor of Chicken Soup for The Indian Woman's soul, the author of Perfect Eight (http://www.flipkart.com/perfect-eight-9380032870/p/itmdf87fpkhszfkb?pid=9789380032870&_l=A0vO9n9FWsBsMJKAKw47rw–&_r=dyRavyz2qKxOF7Yuc ) and an artist.